In this issue:
Ending our sanctuary state status
Resolution supports Israel
Visit to IDOT and Ameren open house
Illinois headlines
Bill calls for repeal of the TRUST Act
In 2017 Illinois enacted legislation called the TRUST Act which made this a sanctuary state for undocumented immigrants. One of its key elements was that it prohibited our law enforcement agencies from working with federal authorities to detain or deport undocumented immigrants.
Nationally, the Border Patrol detained more than 200,000 people crossing the southern border unlawfully in September alone. Many of these are finding their way to sanctuary states like Illinois. There are now as many as 628,000 undocumented immigrants in Illinois, which costs our taxpayers $3 billion each year. Recent weeks have brought us pictures of over 2000 people living on the floors of Chicago police stations and airports as they await placement in shelters.
This a crisis that can no longer be ignored.
Illinois currently provides undocumented immigrants access to free health care benefits, housing assistance, drivers licenses and other assistance. During the brief budget discussion this spring it was estimated that the health care benefits alone would cost $1.1 billion. House Republicans have called for a moratorium on this program and for an audit of its costs. It is only November, but enrollment caps have already been hit and resources are running out. The Department of Healthcare and Family Services has now announced a pause on new enrollees.
To address both the humanitarian and budget crisis, we have introduced House Bill 4187, which would repeal the TRUST Act so that Illinois is no longer a sanctuary state. It would restore law enforcement's ability to work with immigration authorities. It is time to repeal the TRUST Act.
Resolution expresses support for Israel
Our House Minority Leader, Tony McCombie, recently spoke in support of Israel in a speech she gave on the House Floor on behalf of the House Republican Caucus. I have joined in co-sponsoring House Resolution 446, which strongly condemns the violence in the Middle East and stands with Israel as it defends itself against the terrible acts of violence carried out by Hamas terrorists.
Earlier this year, we had the opportunity to hear from the Consul General of Israel when he visited the Capitol and spoke to the House of Representatives. Today House Republicans continue to express our unlimited, unwavering support for the families, defenders, and the State of Israel.
Stopping by the IDOT yard, Ameren open house
I had a great visit at the Watseka IDOT yard. We discussed staffing, resources, and equipment. They have been working on various projects throughout the year such as tree removal, mowing, patching, and everything in between.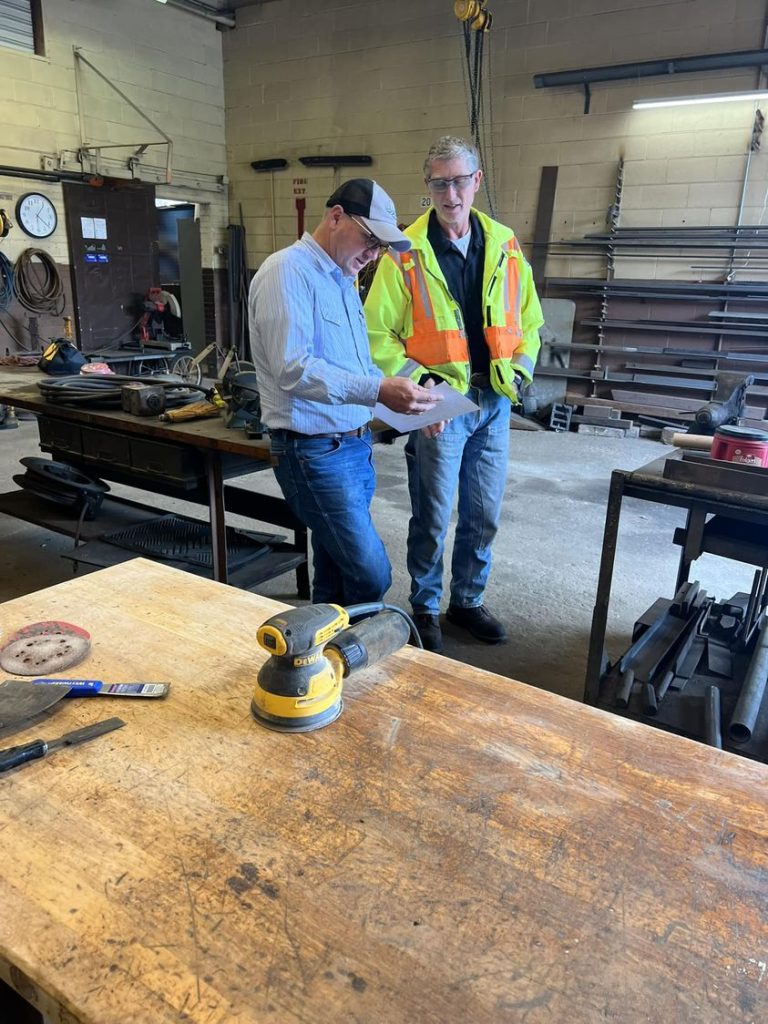 The snow will be falling soon enough! Please be sure to use caution when you are approaching a snowplow. Don't crowd the plows. The snowplows typically operate at 25-35 mph and want ALL motorists to arrive to their destinations safely.
You can check on current Road Construction or Winter Road Conditions at gettingaroundillinois.com.
I also stopped by the Ameren Open House in Watseka to discuss the Central Illinois Grid Transformation Program. Ameren is proposing the Central Illinois Grid Transformation Program to build a more reliable and resilient energy grid for the future.
We had great conversations and I met a few constituents while I was there.
For those that were unable to attend an in-person event, a virtual engagement is available on the website linked below. If you have any questions, you can email Ameren at connect@AmerenGridIL.com or call 1-800-707-0803.
Veto session resumes on Tuesday
After a very disappointing first week in which major issues were left unaddressed, the House and Senate will return to Springfield on Tuesday for the final three scheduled days of the fall veto session. Estate tax and property tax reform, strengthening our ethics laws, fixing the many flaws in the SAFE-T Act, supporting our nuclear power plants and the jobs they provide, and extending the successful Invest in Kids tax credit scholarship should all be on the agenda.
You can follow along at ilga.gov.
Our current bill backlog
When a vendor provides the state with goods and services, they submit the bill to the Illinois Comptroller for payment. The Comptroller processes the paperwork and pays the bill when funds are available in the state's checking account. Currently the total amount of unpaid bills is $1,346,605,587. This figure changes daily. Last year at this time the state had $1.9 billion in bills awaiting payment. This only includes bills submitted to the Comptroller for payment, not unfunded debts like the state's pension liability, which is well over $100 billion.
Illinois headlines
Illinois home to 35 Fortune 500 companies, but that number is shrinking
Federal judge's ruling against California gun ban could impact Illinois case
CPV Three Rivers Energy Center ribbon cutting ceremony held
Head of the class: 11 area schools receive top grade on state report cards
Mid-season turnaround boosts pumpkin production
Free wi-fi goes live in downtown Paxton
ISU Police Chief honored with award after saving a man's life