In this issue:
First week of veto session
Unemployment goes up
Illinois a leader in high property taxes
Visits to Slagel Manufacturing and Saunemin Fire Department
First week of veto session
This week the House and Senate returned to Springfield to start the annual fall veto session. This short session of the legislature is intended to review any vetoes the Governor may have issued over the summer, and sometimes other items are added to the agenda as well.
Unfortunately, the House did not take action on some of the most pressing issues affecting Illinoisans. No legislation was called to fix the ever-more-apparent flaws in the SAFE-T Act and nothing was done to improve the state's ethics climate or to fight corruption. Our bill to extend the successful Invest in Kids scholarship program was not brought up for a vote, and the House has not yet had a chance to vote on overriding the Governor's veto of Senate Bill 76, legislation to help our nuclear power plants. The House also failed to act on reforming the estate tax or reducing property taxes.
We are scheduled to be back in Springfield for three more days starting on November 7. I hope we will see some meaningful and positive action on these important issues.
Unemployment increases in Illinois
The latest figures are in from the Department of Employment Security (IDES), and they show an increase in unemployment in Illinois to 4.4% in September, up from 4.1% in August.
Overall the number of jobs created in Illinois was actually up last month, with nonfarm payrolls increasing by 9900 jobs. Job growth was concentrated in sectors of the economy like trade, transportation and utilities, as well as leisure and hospitality. The biggest losses were in the area of Professional and Business Services, which fell by 2200 jobs.
IDES stated that the increase in the unemployment rate had to do with more people entering the workforce and looking for work, rather than people losing jobs.
Illinois' unemployment rate remains higher than the average for the entire country, which now stands at 3.8%. In all, according to IDES, there are 282,500 unemployed individuals in Illinois who are seeking employment.
Illinois among the top states for property tax burden
A recent survey from the nonpartisan Tax Foundation placed Illinois as #6 in the nation for having the highest property tax burden on its homeowners. Illinois' property tax burden is the highest of any state outside the northeast.
The survey found that Illinois' median annual property tax bill is $4,744. This is equivalent to adding $400 a month to the cost of a residential home in Illinois. Of course, property taxes are based on local assessments, meaning that there are many Illinoisans who face even higher burdens than the statewide average.
Among the 44 states with lower property taxes are all five of our neighbors. Across the border in Indiana, which came in at #43 in the country, the average property tax bill is $1,308. Our other four neighboring states, Iowa, Kentucky, Missouri and Wisconsin also have much lower property tax bills than Illinois.
Visiting Slagel Manufacturing and Saunemin Fire
I recently visited with the folks from Slagel Manufacturing north of Strawn.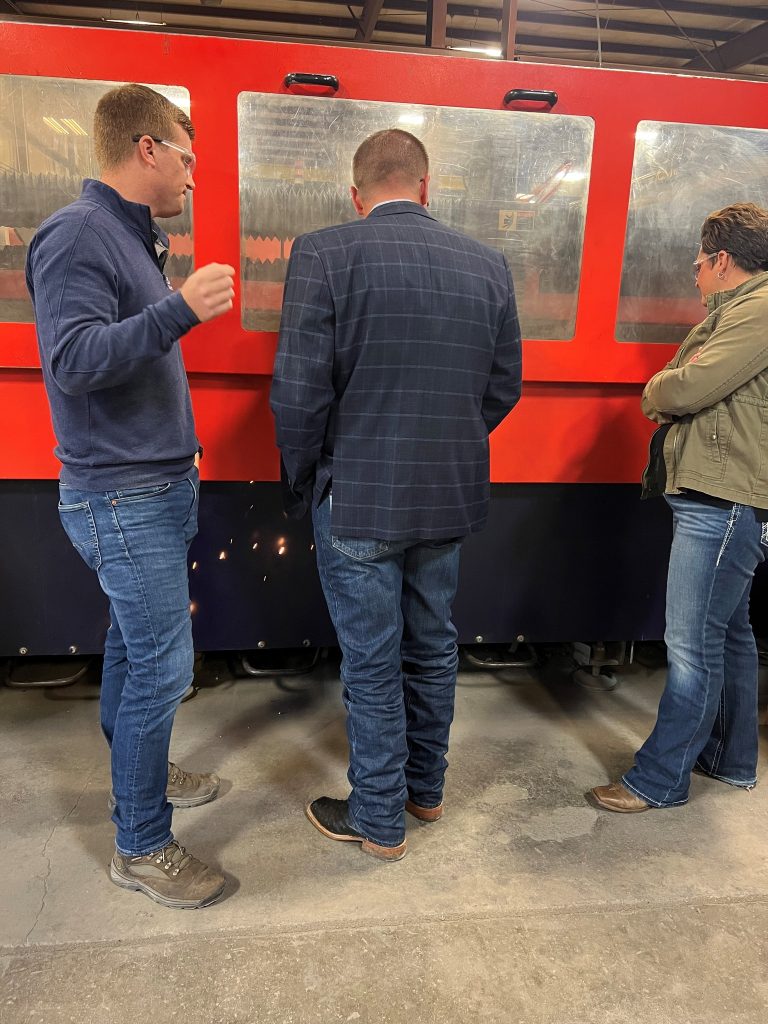 Mark Slagel made the decision in 1993 to take the leap and start his own manufacturing company. Hog gates were the first products Mark manufactured from his home shop. His attention to detail and great customer service laid the foundation for what the company is today.
By 2000, Mark and his brother Don needed more space and moved to their current location. Since then, they have put up seven building additions. They have also diversified their manufacturing portfolio to include general industry, manufacturing, and HVAC products.
After all these years, Mark credits the growth and expansion to faith and hard work.
As their slogan states, they are all about creating customer partnerships. If you change how you view the manufacturing process from transactional to partnership, the outcomes drastically improve. They work with their customers, large and small, to fulfill their needs and expectations. They strive to provide excellent communication and honesty throughout the process to make the experience the best it can be for their customers.
When you work with Slagel, you can always expect the following:
Elite customer service, Quality made products, On-time delivery, and Competitive pricing.
Thank you for allowing us to visit!
I also stopped by the fire station in Saunemin.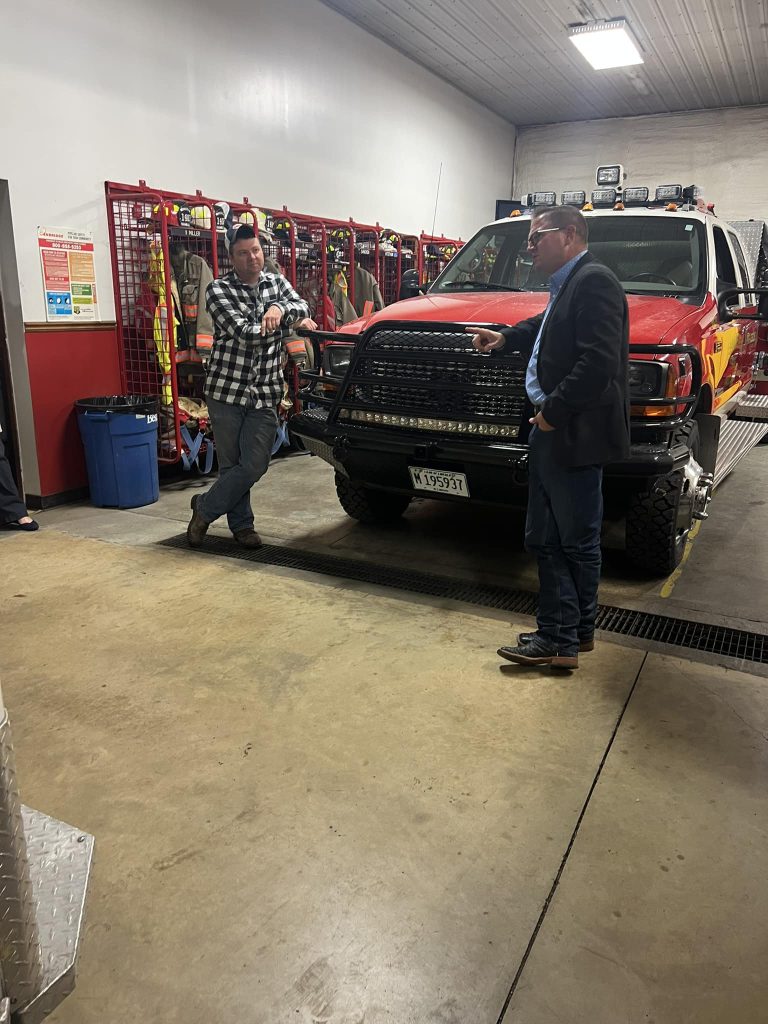 Thank you to Craig Swartz for giving us a tour of the Saunemin Fire Department! Fire Departments are sadly lacking volunteers and funding. For those that are First Responders. Thank you for all that you do.
Watch for deer on the roadways
Anyone who does much driving in Illinois this time of year knows that this is the prime season to encounter deer on the roadways. Deer are an especially common sight on the roadways during twilight hours and at night. The Illinois Department of Transportation (IDOT) has issued some tips to avoid a collision with a deer while on the road.
One way to spot a deer at night is to look for eye-shine, the reflection of headlights in the deer's eye. Drivers should also assume that if they see one deer there are likely others close by.
There were more than 14,000 collisions between vehicles and deer reported to authorities in Illinois last year. More than 600 of these led to injuries and four of them caused fatalities. Please be safe out there!
Our current bill backlog
When a vendor provides the state with goods and services, they submit the bill to the Illinois Comptroller for payment. The Comptroller processes the paperwork and pays the bill when funds are available in the state's checking account. Currently the total amount of unpaid bills is $1,372,917,696. This figure changes daily. Last year at this time the state had $1.5 billion in bills awaiting payment. This only includes bills submitted to the Comptroller for payment, not unfunded debts like the state's pension liability, which is well over $100 billion.
Illinois headlines
Assault weapon registration period remains open as State Police seek further input
Auto thefts are up again this year, and Illinois is helping to lead the way
Illinois farmers: Take advantage of free SCN testing program
Bird migration 2023: When flyovers peak, and how many birds have crossed Illinois