In this issue:
This is Fire Prevention Week
Veto session just around the corner
Small businesses struggling to pay rent
Makers on the Move
It's Fire Prevention Week
The American Red Cross is marking Fire Prevention Week this week by reminding everyone that cooking is the leading cause of fires in homes. The Red Cross is issuing some safety tips to help keep your kitchen safe from fires.
The number one cause of cooking fires is someone leaving a stove unattended, so the first safety tip is to stay in the kitchen while cooking, or turn off the stove if you have to leave the room. Other safety tips include avoiding loose clothing or sleeves that might dangle over the stove, keep kids and pets away from the cooking area.
Anything that can catch fire, like potholders, towels, packaging or paper bags, should be kept well clear of a stove, oven or anything else that generates heat. You can help prevent grease fires by regularly cleaning cooking surfaces to avoid buildup. Have a fire extinguisher and a smoke alarm in your kitchen, and always check to ensure all ovens, stoves and other appliances are turned off before leaving.
These are good ways to keep everyone safe during this Fire Safety Week.
Fall veto session is just around the corner
The House and Senate will be back in Springfield on October 24 to begin the fall veto session. This is the annual short session (scheduled to last six days) where legislators reconvene to consider any legislation which the Governor might have vetoed over the summer. Usually a few additional items are placed on the agenda as well.
One of the top priorities this fall is going to be Senate Bill 76, the bill to help support the state's nuclear energy plants. This bill passed with large bipartisan majorities in the spring, but it was then vetoed by Governor Pritzker. The sponsor has said that she plans to attempt to override the Governor's veto and make the bill become law. If so, that effort would begin in the Senate and then come over to the House. I look forward to once again voting in support of our nuclear plants and the jobs and carbon-free energy they provide.
We have already begun committee work in advance of the fall session. Last week I participated in a Labor and Commerce Committee subject matter hearing on the health care worker shortage. This is a critical issue that we are going to have to continue to work on this fall and next spring.
Illinois is third-worst in the country for small businesses not able to pay their rent
It's no secret that the business climate in Illinois is difficult for small businesses. Taxes, regulations, government mandates and other challenges have made it tough to operate a small business here. Now a new survey shows another difficulty that small businesses are having here: paying their rent.
A small business network called Alignable found that nationwide, 4 in 10 small businesses were unable to pay their rent last month. In Illinois, that figure had actually declined slightly, but was still one of the worst in the entire country. Last month 46% of Illinois small businesses were not able to pay their full rent on time.
Retail shops, restaurants and businesses in the lodging and travel sectors had the most difficulty according to the survey. New York and New Jersey were the two worst states in the country, with Illinois coming in third, just ahead of Maryland. The survey was conducted among 4500 randomly selected small businesses over the course of the month of September.
Makers on the Move
Kira and I had a great time Thursday morning joining the Illinois Manufacturers' Association on two stops along their "Makers on the Move" Tour in honor of Manufacturing Month here in Illinois. Illinois' manufacturing industry alone supports roughly $580 billion in annual economic impact driving investment, opportunity, and innovation across the state. We appreciate everything the manufacturing folks are doing for Illinois and our nation.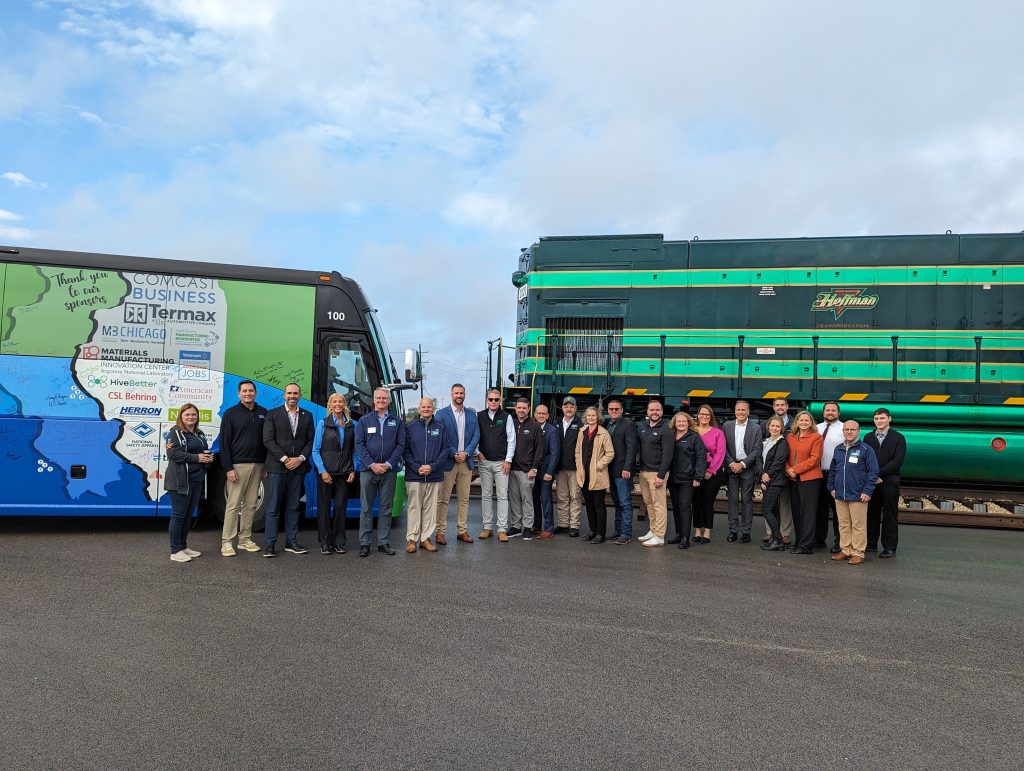 The first stop we made was at Hoffman Transportation in Coal City. In addition to their administrative offices, Coal City houses Hoffman's full-service warehouse and transload/ packaging distribution facility. With over 420,000 square feet of warehouse dedicated to the packaging and distribution of resins and twenty packaging lines dedicated to specific resin families and colors, this facility features G&D Trucking Inc., Hoffman Transportation's newest and most state-of-art custom warehouse management system. The Coal City location includes a rail transfer facility featuring an 800 railcar transloading capacity serviced by the Union Pacific Railroad; all railcar spots are accessible for bulk railcar transloading. It is always great to see Kevin Hoffman and Jordan Hoffman!
We then drove to Channahon and rode on the "Makers on the Move" bus a few miles down the road to Lion Electric in Channahon. This innovative manufacturer of zero-emission vehicles designs and manufactures all-electric school buses, midi/minibuses for special needs or urban transit as well as urban trucks. Lion is a leading OEM in transportation electrification in North America! We were able to take a peek at the assembly line of the buses – very neat! They told us that this facility was just a slab of concrete a year and a half ago – amazing!
Our current bill backlog
When a vendor provides the state with goods and services, they submit the bill to the Illinois Comptroller for payment. The Comptroller processes the paperwork and pays the bill when funds are available in the state's checking account. Currently the total amount of unpaid bills is $1,407,564,063. This figure changes daily. Last year at this time the state had $1.5 billion in bills awaiting payment. This only includes bills submitted to the Comptroller for payment, not unfunded debts like the state's pension liability, which is well over $100 billion.
Illinois headlines
The vast majority of Illinois farms are still family-owned
Controversial legislation in Illinois is having an effect on the state's attorney's office
Illinois volunteer firefighters needed during severe shortage
FBI warns of cyberattacks, crime in Illinois
Hunting with drones? IDNR says no. Plus, try trout season, pheasant hunts, more
Eighty-eight thousand NFL fans? No problem for Paxton's 'Voice' winner