News from State Representative Jason R. Bunting
In this issue:
Reforming the estate tax
Law enforcement advisory meeting
Free paper-shredding event coming up
Ag breakfast for Farm Safety Week September 22
Pushing for estate tax reforms
Illinois charges its residents an estate tax, which is also known as a death tax, a tax imposed on some properties as they go through probate. If the size of the estate exceeds a certain amount, called an "exclusion amount" in state law, the executors of the estate must make a hefty tax payment to the state before it can be released from probate. This tax falls especially heavy on family-owned small businesses and family farms.
Illinois levies the tax on estates greater than $4 million. As a result, many Illinoisans who have the ability to move their property out-of-state are being advised by their tax professionals to do so. But when they do so, they frequently take their income and other assets with them. This means that the weight of the estate tax falls disproportionately on those assets which cannot be moved out-of-state, like farmland or brick-and-mortar small businesses.
Lately there has been a growing movement to reduce or eliminate the Illinois estate tax. House Republicans sponsored House Bill 1459 this spring to raise the exemption threshold for the estate tax up to $12 million – making it the same as the federal threshold. Supporters testified before the House Revenue and Finance Committee about this proposal, but it did not get out of committee.
We need to revisit this issue in the upcoming session and reduce the tax burden on farms and small businesses.
Meeting with local law enforcement
I recently sat down with my Law Enforcement Advisory Board, made up of local law enforcement officers from throughout the district to talk about public safety. We had a good discussion about one of the most important issues we are dealing with in Springfield.
Over the course of our conversation we talked about recent legislation affecting public safety, such as the SAFE-T Act, as well as issues of staffing of departments and ideas for recruiting and retaining police officers to help keep our communities safe.
I appreciate those who shared their ideas with me and all those who serve our communities in law enforcement. I hope that when we get back into session we can start making some positive changes to support the men and women of law enforcement and to make our state safer.
Free paper-shredding event next Saturday
Next Saturday, September 16, I am hosting a free paper shredding event in Dwight.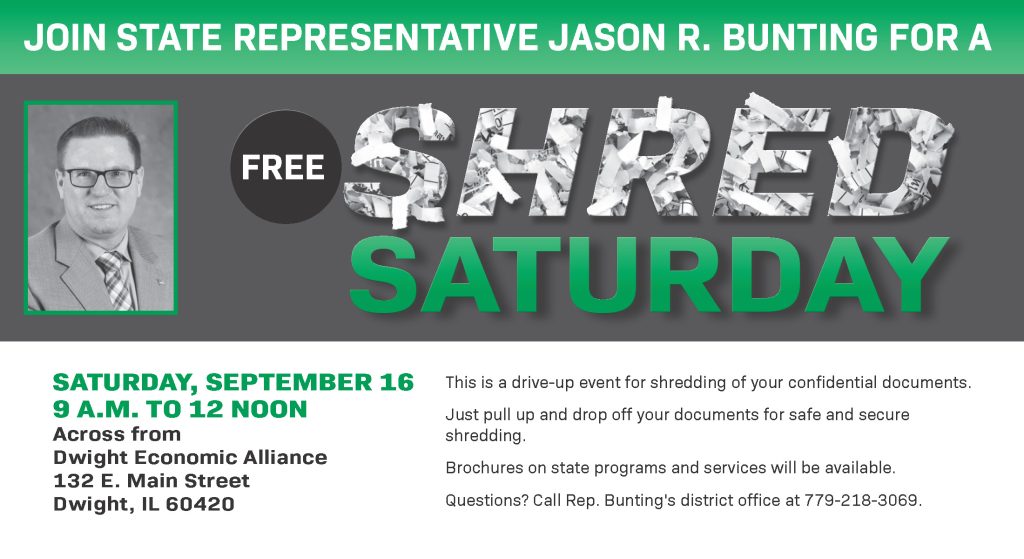 In recent years identity theft has become one of the leading sources of crime and theft from people in Illinois and across the country. A good way to protect yourself from identity theft is to make sure that your financial documents and other sensitive paperwork are disposed of in such a way that they cannot fall into the wrong hands.
We will have a shred truck set up across from the Dwight Economic Alliance office at 132 E. Main Street on Saturday September 16 from 9 a.m. until noon. This is a FREE drive-up event for shredding of your confidential documents. Just pull up and drop off your documents for safe and secure shredding. If you have any questions, please contact my district office at (779) 218-3069.
Ag safety breakfast coming up
On Friday September 22 I am hosting an ag breakfast as part of the educational events for Farm Safety Week. There will be information about keeping safe while farming, one of our most important but also most dangerous professions.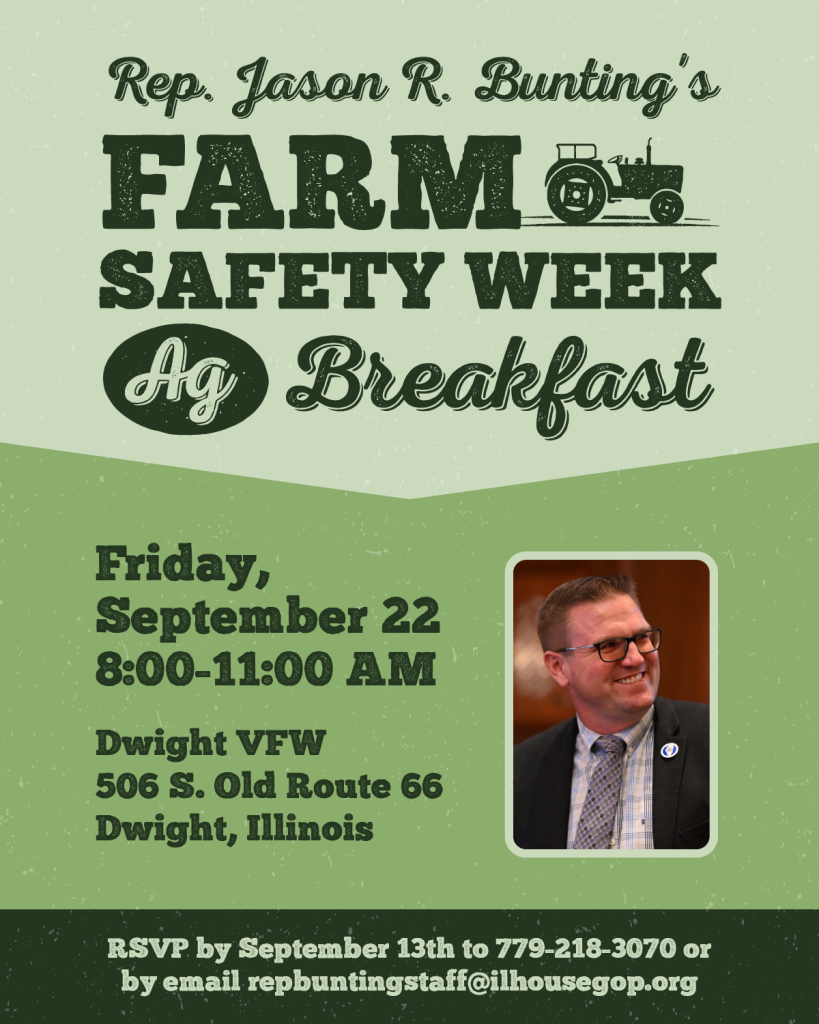 The event will be at the Dwight VFW hall, located at 506 S. Old Route 66 in Dwight starting at 8 a.m. on Friday September 22. Please RSVP to my office by Wednesday September 13. You can RSVP by calling (779) 218-3070 or by email at repbuntingstaff@ilhousegop.org.
Farm Safety Week runs from September 17-23.
Our current bill backlog
When a vendor provides the state with goods and services, they submit the bill to the Illinois Comptroller for payment. The Comptroller processes the paperwork and pays the bill when funds are available in the state's checking account. Currently the total amount of unpaid bills is $2,210,215,937. This figure changes daily. Last year at this time the state had $2.4 billion in bills awaiting payment. This only includes bills submitted to the Comptroller for payment, not unfunded debts like the state's pension liability, which is well over $100 billion.
Illinois headlines
Oct. 31 is the deadline to apply for Illinois pandemic-related mortgage assistance
Survey shows Illinois leads nation in declining revenues for small businesses
Republicans call for stronger ethics reforms following conviction of Madigan's ex-chief of staff
Starved Rock is Illinois' most popular state park
Changes to application process could expand pool of potential State Troopers