In this issue:
Bill-signing season comes to an end
Organized retail theft harming Illinois businesses
Farm Safety Week breakfast coming up
Illinois headlines
Bill-signing season comes to an end
For better or for worse, the bill-signing season that followed the General Assembly's spring session has now come to an end, as all bills which passed in the spring have now been acted upon.
In all, 6717 bills were introduced in the House and Senate since the session convened in January. Just over 8% of these bills eventually became law. Governor Pritzker signed 561 of these bills, making them Public Acts. The other six thousand bills were either rejected, ignored, or merged with other bills.
There were some good bills which became law, and quite a few bad ones. Throughout the summer I have told you about several of these.
Many of the newly signed bills have immediate effective dates, but others will not become law until January 1. The final versions of some bills are still being worked out, either for consideration in the fall veto session or maybe they will start over at the beginning of the spring session in January. A few bills which were vetoed, either entirely or in part, can come back up for further discussion in the fall session.
The fall veto session begins on October 24 and is scheduled to adjourn on November 9. The starting date for the spring session has not been announced yet, but it is usually in early to mid-January.
Organized retail theft increasingly harming brick-and-mortar stores in Illinois
The U.S. Chamber of Commerce recently estimated that the cost of retail theft in Illinois is around $4 billion per year. They calculated this figure based on the $2 billion of goods which were lost directly to theft and the additional costs on the businesses, such as insurance, security and maintenance.
Last week the Illinois Retail Merchants Association (IRMA) expressed agreement with those who have pointed out a growing national trend of flash mobs and other organized groups stealing from stores. IRMA found that many of these thefts are organized by criminal gangs. They overwhelm store personnel, gather a large amount of stolen goods and are then able to sell them online or otherwise quickly turn them around for a profit.
IRMA's CEO, Rob Karr, pointed some of the blame at a recent move in Cook County to raise the threshold for prosecuting felony shoplifting from $500 in thefts to $1000. "Increasing the threshold has a demonstrable impact in terms of encouraging additional theft," he said. "Criminals are intelligent. They know exactly where that threshold is."
Farm Safety Week breakfast coming up in Dwight
On Friday September 22 I will be hosting a breakfast in honor of Farm Safety Week.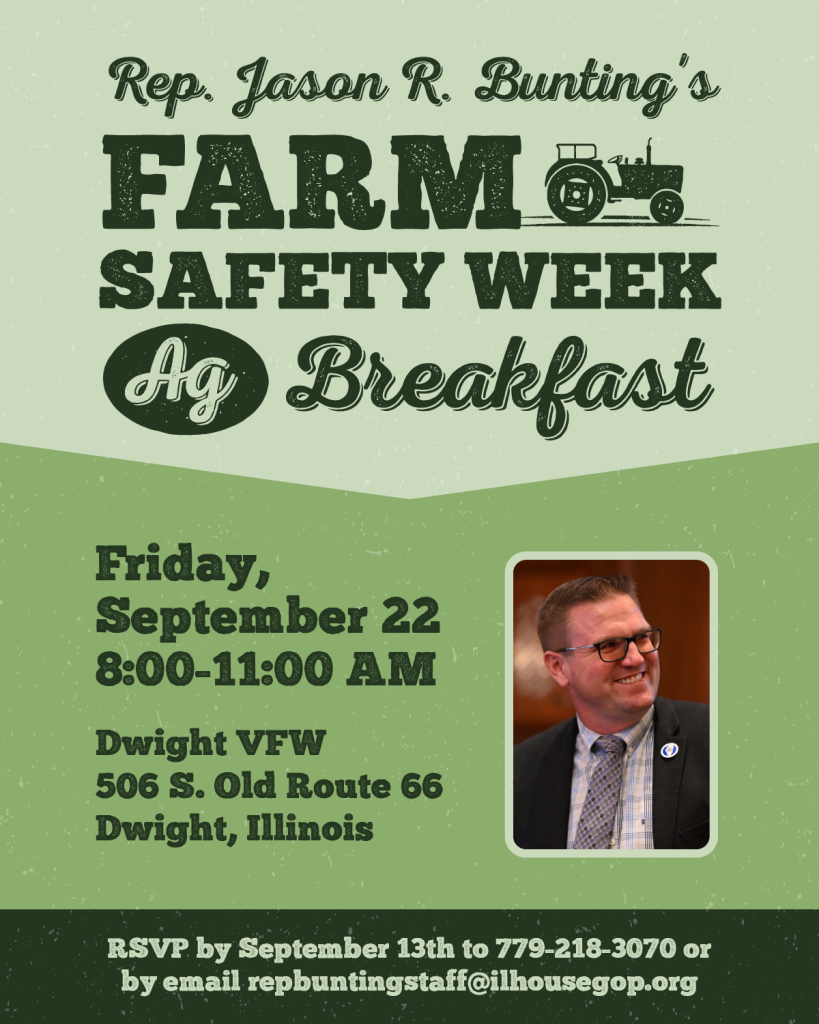 This spring I sponsored a resolution, which the House adopted unanimously, to declare September 17-23 as Farm Safety Week throughout Illinois. Farming is essential to our nation, but it is also one of the country's most dangerous professions. Farm safety includes everything from safe operation of machinery and safe actions around grain bins, to drivers safely sharing the roads with farm machinery.
To help educate farmers and the general public about the importance of farm safety and steps to take to stay safe, I am hosting an ag breakfast for Farm Safety Week on Friday September 22 at the VFW hall in Dwight, located at 506 S. Old Route 66, from 8 a.m. until 11 a.m. We will have a safety program and an opportunity for questions and answers about farm safety.
RSVPs are required for this event. Please contact my office at (779) 218-3070 or repbuntingstaff@ilhousegop.org by Wednesday September 13 to RSVP.
Traveling office hours coming to Chenoa and Streator
On Tuesday September 5 I will be hosting my latest round of traveling office hours in McLean and LaSalle Counties.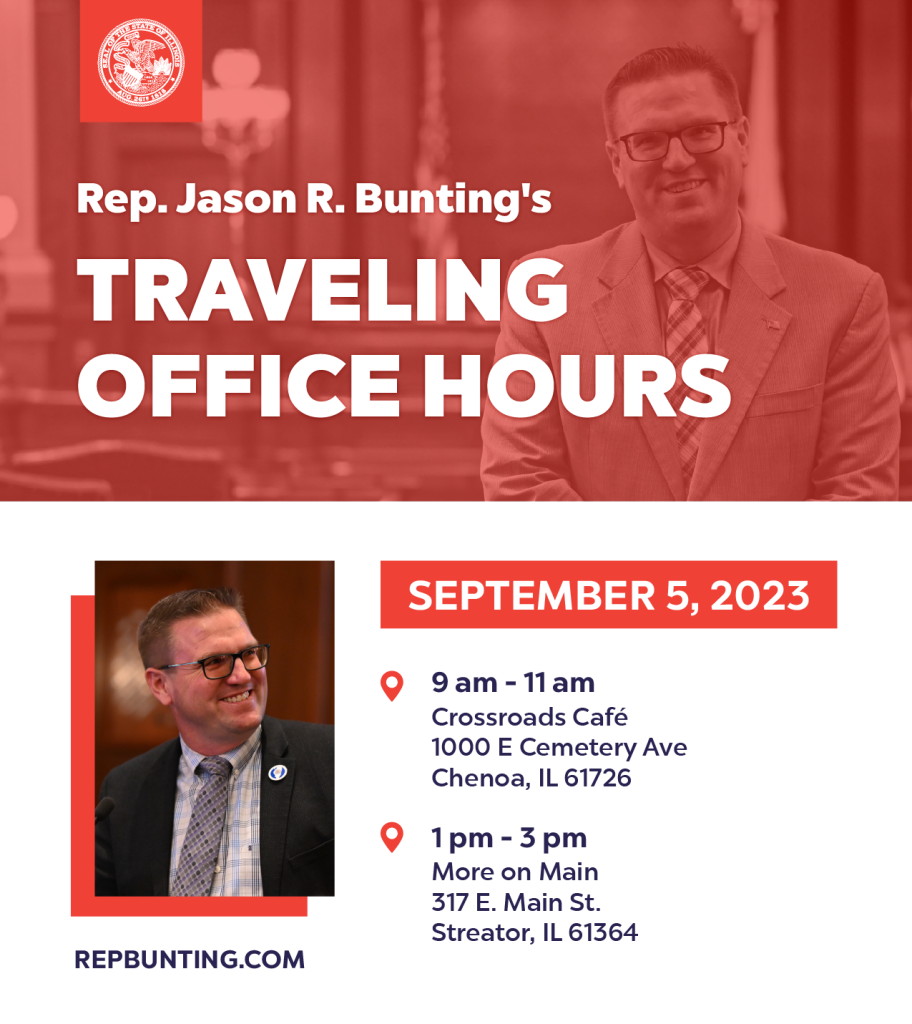 We will be starting the day at the Crossroads Café, 1000 E. Cemetery Avenue in Chenoa from 9 a.m. until 11 a.m. In the afternoon we will be at More on Main, 317 E. Main Street in Streator from 1 p.m. until 3 p.m.
All summer we have been having great conversations with local residents about the state government issues that are on their minds. I'm looking forward to our next set of meetings in Chenoa and Streator. If you are in the neighborhood, please stop by and say hello.
Our current bill backlog
When a vendor provides the state with goods and services, they submit the bill to the Illinois Comptroller for payment. The Comptroller processes the paperwork and pays the bill when funds are available in the state's checking account. Currently the total amount of unpaid bills is $1,779,861,413. This figure changes daily. Last year at this time the state had $1.8 billion in bills awaiting payment. This only includes bills submitted to the Comptroller for payment, not unfunded debts like the state's pension liability, which is well over $100 billion.
Illinois headlines
House Republicans deliver for kids with school supply drives
You may soon need an appointment to renew your Illinois driver's license
Farm Family Resource Initiative provides needed mental health resources
Illinois records first death of person this year from West Nile virus
Audit: Illinois Department of Human Services hires unqualified applicants
More than 66,000 Illinoisans can expect a check from the state's Unclaimed Property program