In this issue:
Illinois Supreme Court upholds gun ban, federal ruling still to come
Governor vetoes nuclear power plant bill
Reminder: Traveling Office Hours
Illinois headlines
Thank you for reading my e-newsletter. For the latest news from state government or to share your ideas and opinions, please visit my legislative website at repbunting.com.
Illinois Supreme Court upholds gun ban, federal ruling still to come
I was disappointed but not surprised by the recent 4-3 ruling by the Illinois Supreme Court which upheld the gun ban legislation that was hastily passed back in January. Illinois' Supreme Court districts were recently gerrymandered to ensure a Democrat majority. This summer we have seen their rulings reflect the partisan imbalance of the Court.
What did surprise me about the ruling was the Court's unwillingness to even approach the Second Amendment issue that is central to the case. In response to Second Amendment questions, the ruling states, "we offer no opinion on the potential viability of such a claim."
There have been Second Amendment lawsuits filed in federal courts, and those will be the cases which ultimately decide the fate of this law. As a strong supporter of our Second Amendment I hope that our federal courts will show more respect for the Constitution and the rights of law-abiding gun owners.
Governor vetoes bill to support nuclear power plants
This spring a large, bipartisan majority in the House and Senate passed a bill I co-sponsored to support our nuclear power plants. Senate Bill 76 would have removed the state's nearly 40-year-old ban on new nuclear power plant construction. Unfortunately, Governor Pritzker has vetoed this bipartisan bill.
The bill recognized that nuclear power is a low-carbon energy source and that it helps reduce greenhouse emissions. It also acknowledged the fact that the nuclear industry has made tremendous advances in technology and plant safety over the years.
Nuclear power is especially important to our area not only because of the reliable energy it produces, but because two nearby power plants provide hundreds of jobs and support our local communities and school districts with tax revenue.
A 2021 Illinois law requires many of Illinois' coal power plants to shut down by 2030, reducing energy-generating capacity at the same time that demand is projected to increase by 50 percent. Nuclear power is part of the solution.
There is already talk about an effort this fall to override the Governor's veto and enact this important piece of legislation into law. I will be in wholehearted support of that effort.
Insulin legislation will help vulnerable Illinois families
Last week the Governor signed a bill I co-sponsored which would help make life-saving insulin affordable for vulnerable Illinoisans.
House Bill 2189 creates the Access to Affordable Insulin Act. The new law will help counteract the soaring cost of insulin by creating a discount program for Illinoisans to purchase insulin at a reduced price of $35 per month. The program will make it easier for Illinoisans to access life-saving insulin.
The program will begin on July 1, 2025. Participants will receive information from the Department of Insurance about how pharmacies will apply the discount.
Reminder: Traveling Office Hours coming to Ford and Livingston Counties August 22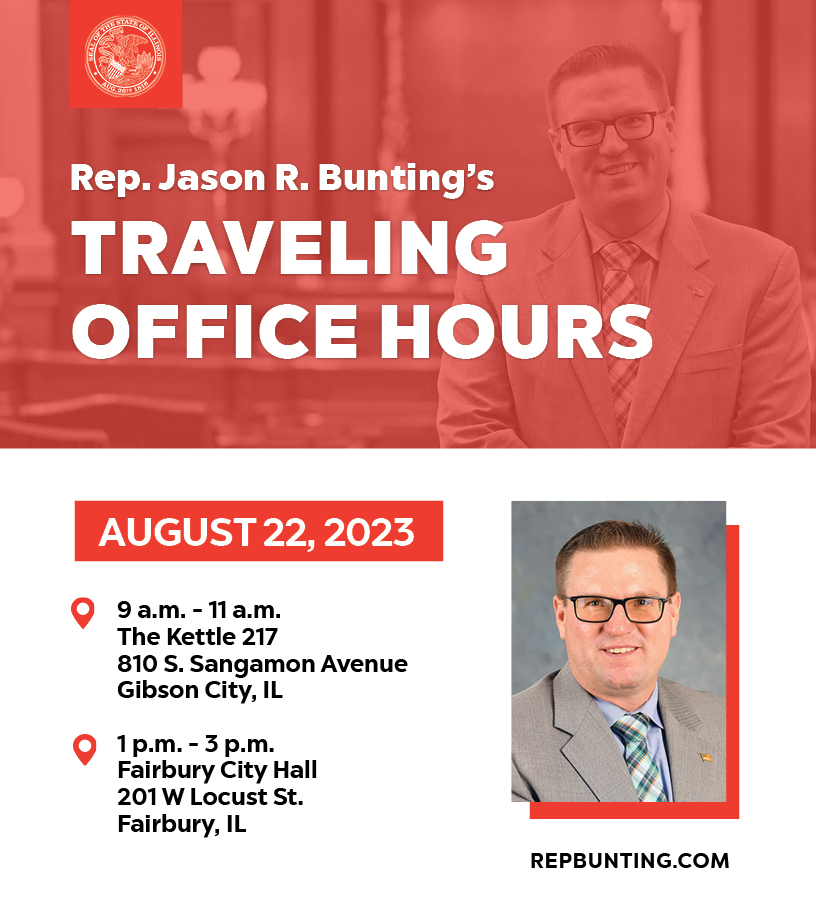 I have been traveling the district holding office hours in different towns for those who would like to meet in person but who cannot get to the district offices in Watseka and Dwight. I've met some great people and had great conversations with many residents and local leaders throughout the district. On Tuesday August 22 I will be holding another round of traveling office hours in Ford and Livingston County.
The first event will be in Gibson City at The Kettle 217, located at 810 S. Sangamon Avenue from 9 a.m. until 11 a.m. In the afternoon I will be at Fairbury City Hall, 201 W. Locust Street, from 1 p.m. until 3 p.m.
If you would like to discuss any issue involving state government, ask questions or just say hello, please stop by!
Our current bill backlog
When a vendor provides the state with goods and services, they submit the bill to the Illinois Comptroller for payment. The Comptroller processes the paperwork and pays the bill when funds are available in the state's checking account. Currently the total amount of unpaid bills is $1,682,101,173. This figure changes daily. Last year at this time the state had $2.6 billion in bills awaiting payment. This only includes bills submitted to the Comptroller for payment, not unfunded debts like the state's pension liability, which is well over $100 billion.
Illinois headlines
Illinois' firearms industry vulnerable to lawsuits under new law
New law allows schools to count 4-H, FFA learning events as excused absences
How electric vehicles may kill AM radio
Illinois schools, organizations can apply for grants supporting student mental health services