In this issue:
Law targeting crisis pregnancy centers halted
Another reminder of the need for ethics reform
Traveling Office Hours in Ford and Livingston counties
Illinois headlines
Court halts law which targeted crisis pregnancy centers
This spring the House and Senate passed a bill which allowed the Attorney General to go after pro-life crisis pregnancy centers if they engage in what he deems to be "misinformation." Governor Pritzker signed the bill in late July. The legislation was extremely vague and gave no hints as to what would be considered misinformation by the Attorney General. Crisis pregnancy centers help women and are a necessary resource.
I voted No because this legislation is ripe for abuse and violates free speech rights. A few days ago a federal judge agreed, stating that "the bill is painfully and blatantly a violation of the First Amendment."
The judge's ruling puts in place a preliminary injunction, temporarily halting implementation of the law. There will likely be more legal wrangling ahead.
Former Madigan Chief of Staff goes on trial this week
Earlier this year four utility company executives were found guilty in a corruption trial involving former Illinois House Speaker Michael Madigan. This week, another Madigan associate, his former Chief of Staff was in court in Chicago in the latest statehouse corruption trial.
Timothy Mapes is accused of lying to federal investigators about communications and knowledge he had of Madigan's corrupt activities. Prosecutors say he offered "blatantly false" testimony to a grand jury in an effort to block the investigation of Madigan. Speaker Madigan was indicted last March and is scheduled to go on trial next April.
I know I am beginning to sound like a broken record, but the fact remains: Illinois must pass real, sweeping ethics reform to clean up state government and end the corruption that has plagued our state for far too long.
Visiting with future ag leaders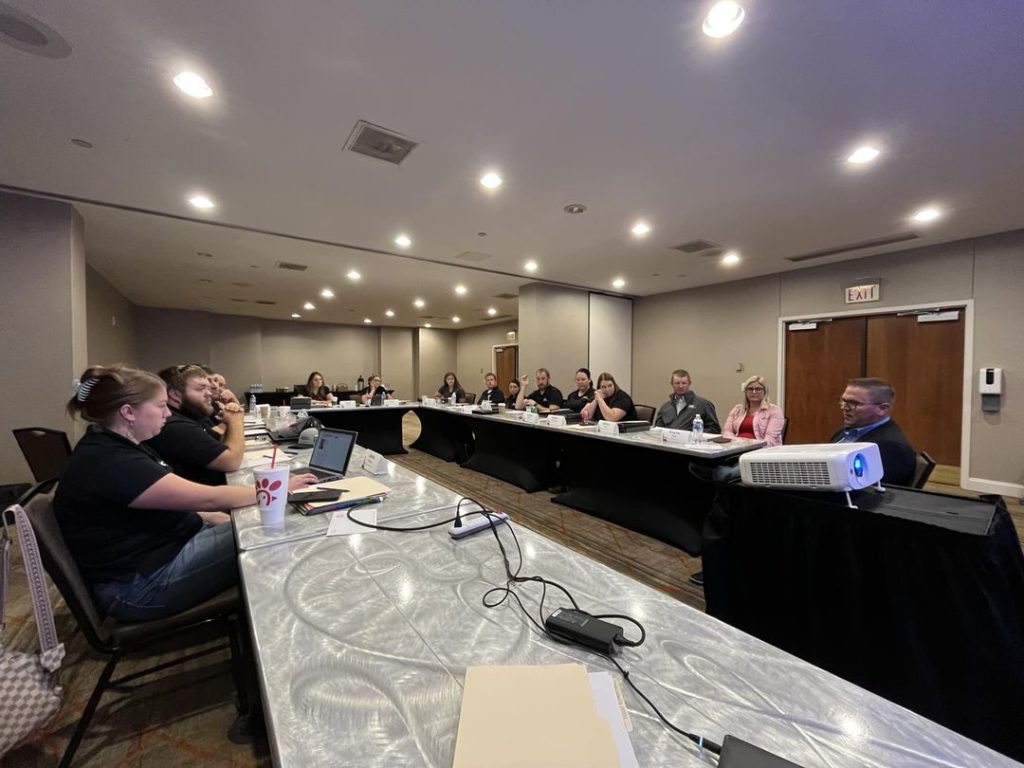 I had an opportunity to go and speak with the Illinois Farm Bureau State Young Leader Committee Monday in Springfield.
My task was to explain the importance of advocating for agriculture with elected officials at the local, state and national levels. It was a great conversation with the future leaders of the ag industry and IFB.
Thank you for your service.
Traveling Office Hours coming to Ford and Livingston Counties August 22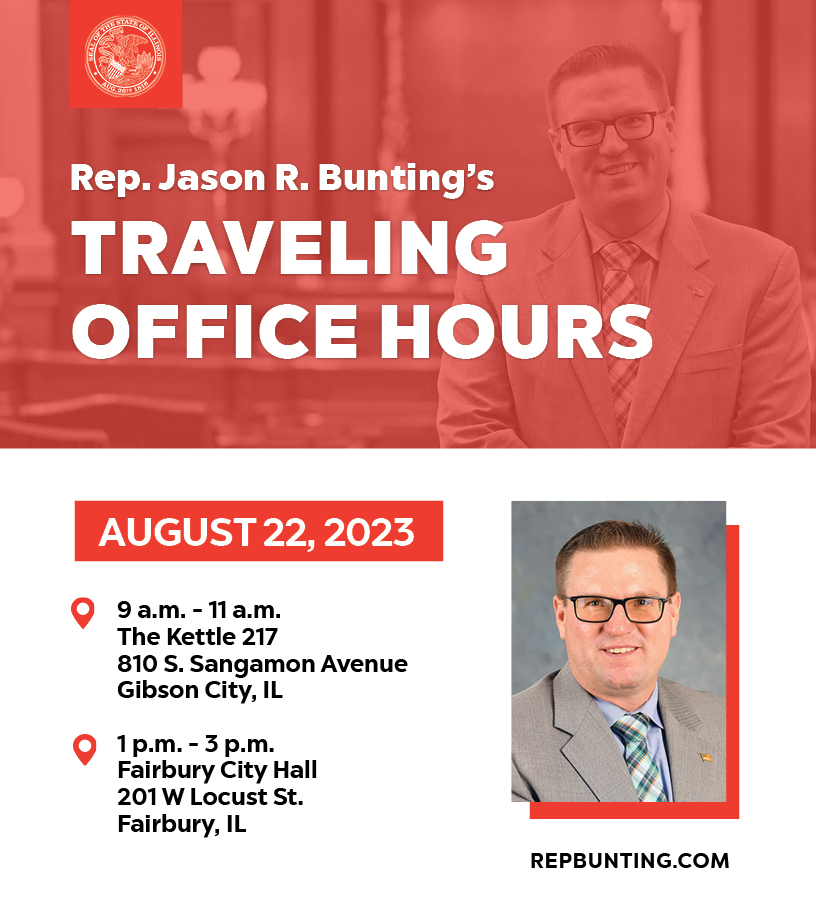 I have been traveling the district holding office hours in different towns for those who would like to meet in person but who cannot get to the district offices in Watseka and Dwight. I've met some great people and had great conversations with many residents and local leaders throughout the district. On Tuesday August 22 I will be holding another round of traveling office hours in Ford and Livingston County.
The first event will be in Gibson City at The Kettle 217, located at 810 S. Sangamon Avenue from 9 a.m. until 11 a.m. In the afternoon I will be at Fairbury City Hall, 201 W. Locust Street, from 1 p.m. until 3 p.m.
If you would like to discuss any issue involving state government, ask questions or just say hello, please stop by!
Illinois State Fair now underway in Springfield
The Illinois State Fair kicked off on Thursday in Springfield. It runs through next Sunday, August 20.
Every year the State Fair is a tremendous showcase for Illinois agriculture and many of the things that make our state such a great place to live. Each day of the fair is set aside for a certain theme, such as Veterans and Gold Star Families (Sunday), Seniors and Scouts (Monday), First Responder and Healthcare Heroes (Friday) and Park District Conservation (Saturday)
You can find a full schedule of fair events and other activities by clicking here.
Ameren hosting grid transformation program open houses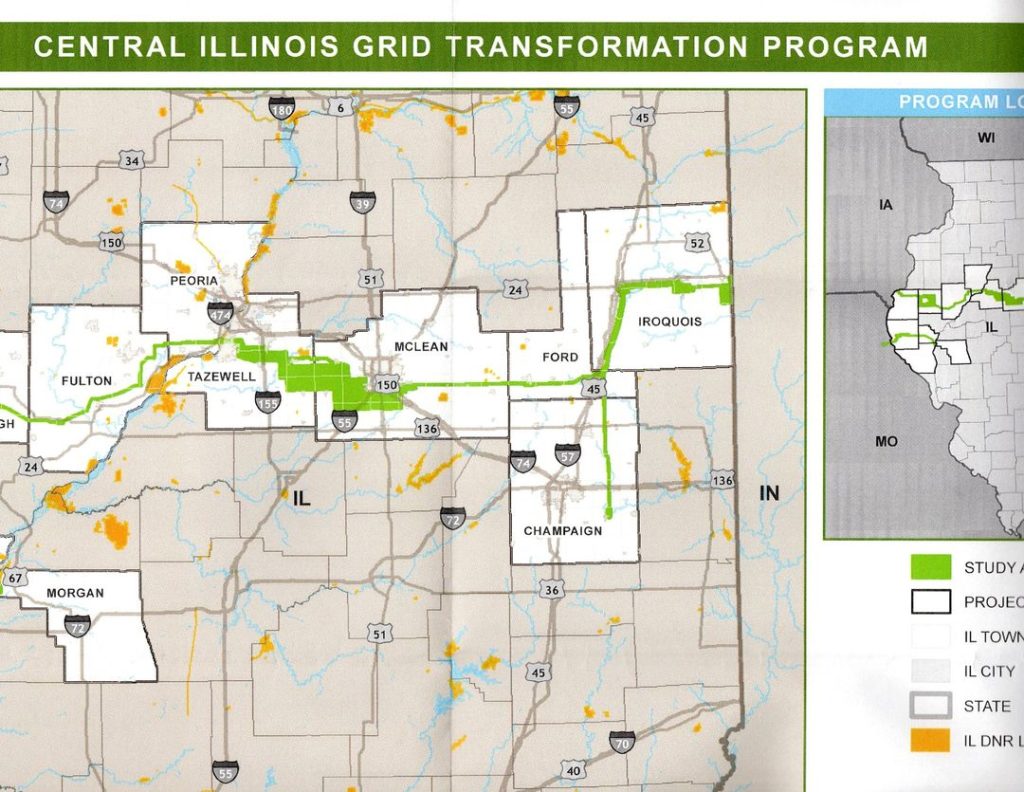 Ameren is proposing the Central Illinois Grid Transformation Program to build a more reliable and resilient energy grid for the future. An event was held in McLean County earlier this week to discuss the program with local residents. They will be hosting Public Open Houses in Ford & Iroquois Counties for residents to ask questions and provide input. There will be no formal presentation, so feel free to visit anytime throughout the two-hour timeframes.
The Ford County Open Houses are on August 23rd at the Kruse Event Center at 207 N. Lawrence St. in Gibson City from 11am-1pm and 5pm-7pm.
The Iroquois County Open Houses are on August 24th at the Watseka Elks Lodge 1791 located at 111 North 3rd St in Watseka from 11am-1pm and 5pm-7pm.
For those that are unable to attend an in-person event, a virtual engagement is available on the website linked below. If you have any questions, you can email Ameren at connect@AmerenGridIL.com or call 1-800-707-0803.
Our current bill backlog
When a vendor provides the state with goods and services, they submit the bill to the Illinois Comptroller for payment. The Comptroller processes the paperwork and pays the bill when funds are available in the state's checking account. Currently the total amount of unpaid bills is $1,505,187,069. This figure changes daily. Last year at this time the state had $1.7 billion in bills awaiting payment. This only includes bills submitted to the Comptroller for payment, not unfunded debts like the state's pension liability, which is well over $100 billion.
Illinois headlines
Some worry complying with Illinois' gun, attachments registration 'impossible'
Illinois law will make it easier for people in need to get food
Professional licensure law outdated and stifles job growth
Counties in our area eligible for emergency haying and grazing