In this issue:
Illinois unemployment at 4.0%
Free Senior Fair in Morris on Wednesday
School supply collection drive
Illinois headlines
Thank you for reading my e-newsletter. For the latest news from state government or to share your ideas and opinions, please visit my legislative website at repbunting.com.
Unemployment in Illinois hits 4.0%
The state's unemployment rate dropped by a notch, coming in at 4.0% for the month of June. This is the fourth month in a row that the unemployment rate in Illinois has declined, albeit very slightly. The figures were released by the Illinois Department of Employment Security and are based on data provided by the federal Bureau of Labor Statistics.
Those sectors of the economy which added jobs in Illinois last month included Educational and Health Services (+5300), Leisure and Hospitality (+2900) and Construction (+2900). But some sectors saw declines last month, among them Professional and Business Services (-5400), Manufacturing (-2100) and Trade, Transportation and Utilities (-2000).
Nationwide the unemployment rate is 3.6% for June.
Reminder about our free senior fair in Morris on Wednesday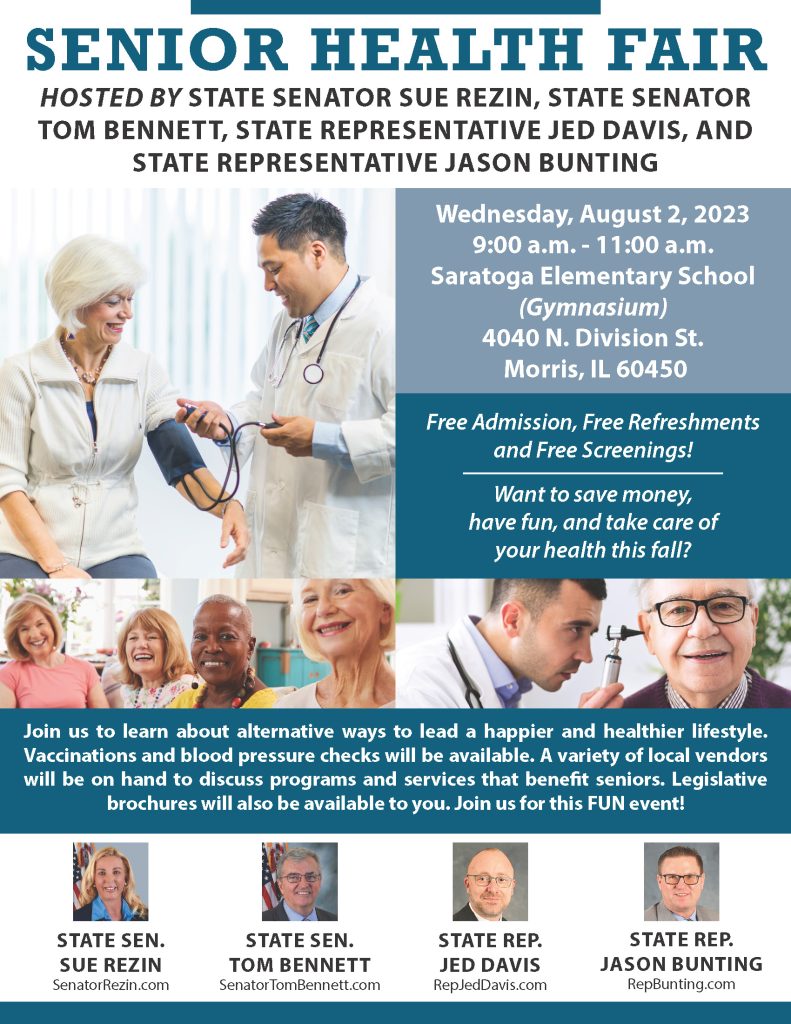 I am reminding everyone about the FREE senior fair I am hosting along with State Representative Jed Davis and State Senators Sue Rezin and Tom Bennett in Morris on Wednesday.
We will be in the gymnasium at Saratoga Elementary School, located at 4040 N. Division Street in Morris from 9 a.m. to 11 a.m. You can learn about ways to take care of your health, save money and lead a happier and healthier lifestyle. We will have refreshments and free health screenings as well as information about programs that benefit seniors. Legislative brochures will be on hand and we will be available to answer your questions about state government.
I hope you will drop in for this free and fun event!
Collecting school supplies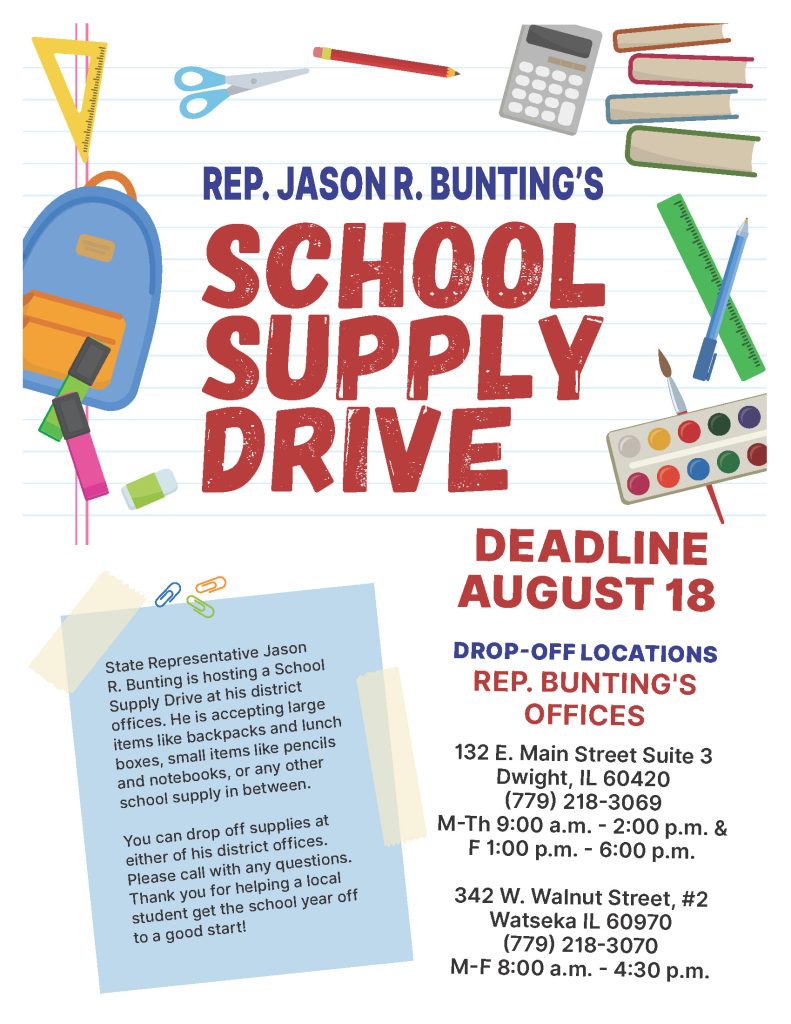 I am hosting a school supply collection drive at both my Dwight and Watseka district offices this summer. As the first day of school draws nearer, many local students are putting together their school supplies for the year. Some families in our area could use a little bit of help.
Please help a local student start the school year off right by donating some school supplies. We are accepting items large and small, from backpacks and art boxes to pencils and notebooks. Thank you for doing what you can to help a local student. Please call my office with any questions you might have.
Traveling office hours in Coal City
Thank you to everyone who stopped by my Traveling Office Hours in Coal City on Tuesday, and to the staff at village hall for hosting us. We will be scheduling more traveling office hours around the district in the coming weeks and months, so look for us in your hometown soon.
In the meantime, if there is anything I can do to assist you with state government, please contact me through RepBunting.com or at one of my district offices.
Our current bill backlog
When a vendor provides the state with goods and services, they submit the bill to the Illinois Comptroller for payment. The Comptroller processes the paperwork and pays the bill when funds are available in the state's checking account. Currently the total amount of unpaid bills is $1,178,232,289. This figure changes daily. Last year at this time the state had $1.9 billion in bills awaiting payment. This only includes bills submitted to the Comptroller for payment, not unfunded debts like the state's pension liability, which is well over $100 billion.
Illinois headlines
Illinois' education personnel shortage goes beyond teachers
Home delivery of alcohol is here to stay
Illinois farmers bring in bountiful wheat crop
Thousands of huge native sturgeon destined for Illinois waters
Farmers are being sought for a survey about specific bioenergy crops and land use decisions