In this issue:
Supreme Court upholds SAFE-T Act's elimination of cash bail
FREE Senior health fair coming up in Morris August 2
House Republicans fighting to end shortchanging of local governments
Illinois headlines
Supreme Court upholds SAFE-T Act's elimination of cash bail
The Illinois Supreme Court ruled on Tuesday that the controversial SAFE-T Act's elimination of cash bail is constitutional and may go into effect. The justices split along party lines, voting 5-2 in favor of upholding the law.
Cash bail will be eliminated on September 18.
The SAFE-T Act was passed in the closing minutes of the 2021 lame duck session of the General Assembly. It was rammed through in spite of serious objections from law enforcement and others who were concerned that it would make Illinois less safe. Eliminating cash bail makes it much easier for those arrested for crimes to be quickly released back out onto the streets.
The law is so bad that a majority of the state's attorneys in Illinois, Republicans and Democrats alike, sued to stop it from going into effect. After initially defending the law, Democrats have spent much of the past two years making changes to it. But even with the changes, the new law still puts criminals ahead of victims and makes Illinois less safe.
Illinois has one of the highest murder rates in the country, and criminals have been so emboldened in recent years that they commit violent crimes in broad daylight. Police have been demonized and undermined to the point that it is getting harder and harder for departments around the state to attract and retain the number of police officers they need to protect the public.
Illinoisans should be able to count on having safe communities in which to live and work. Instead this law prioritizes criminals over families and the police officers we trust to keep us safe. As more shortcomings in the law become clear with its implementation, I will continue to work to fix its many flaws, support our police and keep Illinoisans safe.
FREE Senior health fair coming up in Morris on August 2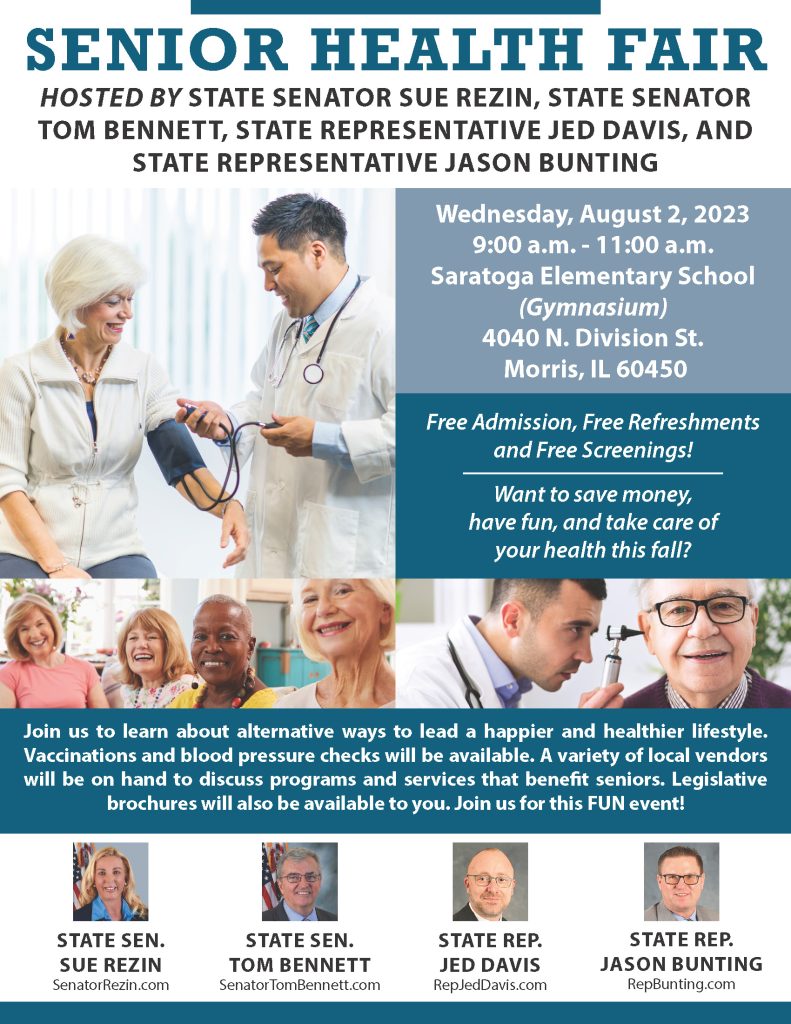 On Wednesday August 2 I will be joining with State Representative Jed Davis and State Senators Sue Rezin and Tom Bennett to host a free senior health fair in Morris.
The event will be from 9 a.m. to 11 a.m. in the gymnasium at Saratoga Elementary School, located at 4040 N. Division Street in Morris. There will be refreshments available and numerous free health screenings from a variety of different vendors. You can join us to learn about the many ways to lead a happier and healthier lifestyle or to discuss programs that benefit seniors.
Legislative brochures will be on hand and we will be available to answer your questions about state government. Please stop by for this free and fun event!
House Republicans fighting to end shortchanging of local governments
Since Illinois first enacted its state income tax more than 50 years ago, a portion of that tax revenue has always flowed to local governments, a process called revenue sharing. Until the 2011 income tax increase, local governments received 10 percent of income tax revenues each year.
But as the state created more and more new programs and spent more and more money, it shared less with local governments for their important priorities. By the time income taxes were increased in 2017, local governments' share of income tax revenue had fallen to 5.45%. It has gradually increased in recent years to 6.16% last year and is now 6.47% in this year's budget.
House Republicans have introduced legislation to restore this critical revenue source for local communities by bringing it back to the original 10% figure. This revenue sharing with local governments helps fund essential services like maintenance of infrastructure and public safety. It also helps local governments avoid having to raise taxes of their own. In some communities, these funds make up as much as 10 to 20 percent of the local government budget.
We should not be shortchanging local governments and local taxpayers. As my colleague Rep. John Egofske, who also serves as the mayor of Lemont said, "I understand the importance of these additional funds and see how they work every year. Any responsible state budget should include re-establishing this funding back to 10 percent."
Two bills were filed in the spring session to restore this funding, but neither was allowed to have a hearing or be called for a vote.
Fun at the Iroquois and Livingston County Fairs
It was great to get out to the fairs in Livingston and Iroquois counties this week. I enjoyed seeing a lot of familiar faces and meeting several new people. It was a lot of fun to see all the exciting activities, exhibits and shows at the fair. Thanks to everyone who stopped by our booth to pick up information on state government programs and the services our office provides.
Our current bill backlog
When a vendor provides the state with goods and services, they submit the bill to the Illinois Comptroller for payment. The Comptroller processes the paperwork and pays the bill when funds are available in the state's checking account. Currently the total amount of unpaid bills is $890,021,595. This figure changes daily. Last year at this time the state had $1.9 billion in bills awaiting payment. This only includes bills submitted to the Comptroller for payment, not unfunded debts like the state's pension liability, which is well over $100 billion.
Illinois headlines
Rep. Bunting attends Ford-Iroquois Retired Teachers Association luncheon
Illinois Department of Innovation & Technology holding Virtual Job Fair July 25th at 1:00pm
Illinois will not have a sales tax holiday for school supplies this year
Illini in space: 6 astronauts, 16 shuttle missions, 499 days far, far away
Illinois Instagram users could receive payment from $68M class action lawsuit