In this issue:
Busy week at the Capitol
Supreme Court arguments on SAFE-T Act
Credit rating upgrade
Illinois headlines
Thank you for reading my e-newsletter. For the latest news from state government or to share your ideas and opinions, please visit my legislative website at repbunting.com.
Busy week at the Capitol as deadlines approach
This has been a busy week at the Capitol, as today is what is known as "Third Reading Deadline" day. All bills have to be read into the record three times before they can be voted on, and today is the deadline for House bills to be passed or to die for the year. Naturally, there was a big crush of legislation in the last few days as members tried to beat the deadline.
Nearly 100 bills passed on Wednesday, and more than 130 passed on Thursday, in a session that stretched until just before midnight. Most of these bills passed with bipartisan majorities, but a few were contentious. We saw everything from a bill to allow county boards to lease county-owned property for farming, and a bill to help families of deceased veterans get the benefits they deserve (I voted Yes) to a bill to ban pets from riding on drivers' laps (I voted No).
The major issues, like the state budget, are still unresolved and likely won't get done until just before the House adjourns in May.
Awaiting a Supreme Court decision on cash bail portion of the SAFE-T Act
For many years courts in Illinois have been able to require a defendant to post cash bail while they prepare for a trial date. The state Constitution orders that cash bail must be set at an appropriate level. Existing state law gives defendants some recourse when bail is a condition for their release while awaiting trial.
But a major, and very controversial, part of the 2021 criminal justice bill known as the SAFE-T Act would eliminate cash bail this year. A bipartisan group of Illinois' state's attorneys filed suit against the change in the law, and that case has finally reached the Illinois Supreme Court, with arguments heard from both sides last week. The Court will now decide whether or not to end cash bail in Illinois.
It is not yet known when a decision will be announced, but it will have major implications for the future of pre-trial detention in Illinois.
Illinois' credit rating is upgraded, still well behind neighboring states
Moody's Investor's Service recently upgraded Illinois general obligation debt to a "single A3" rating, a move which could ease some of the burden on Illinois taxpayers for interest payable on our debts, but which also still leaves Illinois far behind the ratings of neighboring states. Indiana, for example, maintains a much higher AAA rating, while the single A3 rating is the lowest of the A-ratings which Moody's assigns.
As state government continues to borrow money, its credit rating from agencies like Moody's helps determine the amount of interest that Illinois bonds will pay. Every year, the state must set aside more and more money in the budget to service these debts, meaning less funds are available for other important priorities.
The interest payments end up being paid by taxpayers. So it is good news that our rating has been upgraded and our rates should be better for taxpayers, but it is also a reflection on the sorry state of our state budgeting practices that we are so far behind our neighbors.
Illinois comes in dead last in rankings of state friendliness to taxpayers
The personal finance website WalletHub recently issued its rankings of all 50 states and the District of Columbia in terms of friendliness to their taxpayers. Illinois came in dead last.
Our combined state and local tax rate of close to 15.1% is the highest in the nation. The ranking comes at a time when the state is forecast to bring in billions of dollars in additional revenue. That just reinforces the argument for permanent tax relief.
Among Illinois households making the median U.S. income, state and local tax payments added up to $10,463, which is the highest in the nation. Even when the figures were adjusted for the cost of living, Illinois was still near the bottom of the list at number 47.
We need to reduce the burden of taxation on Illinoisans. A good place to start would be by enacting the Constitutional amendment I am co-sponsoring to make it harder to raise taxes. Then we should enact real, permanent tax relief for Illinois taxpayers.
Farm Bureau Legislative Breakfast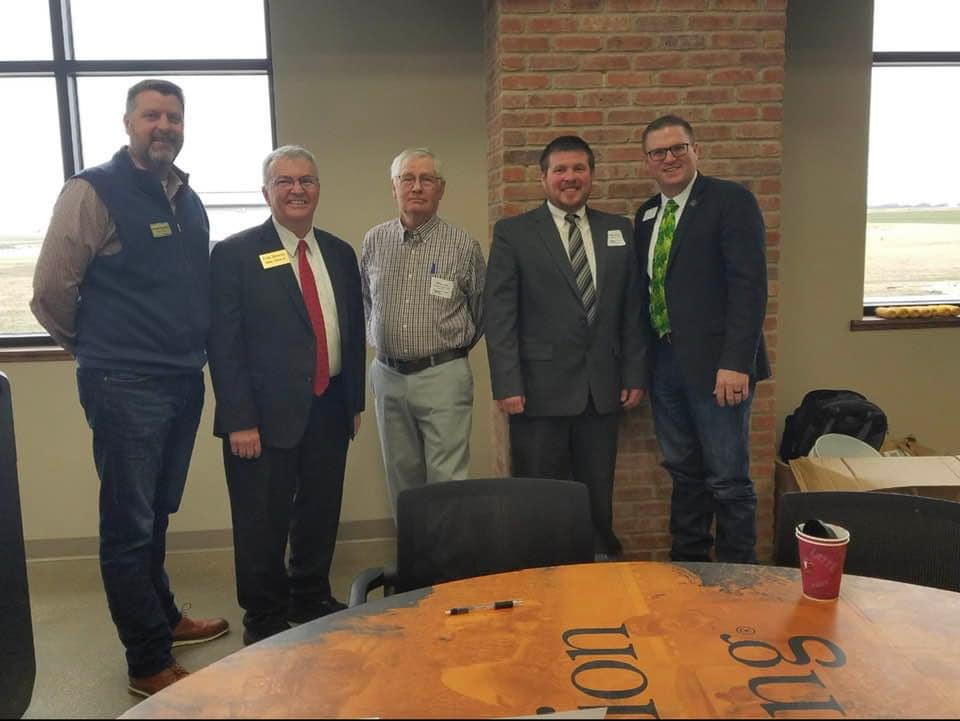 I had some great conversations with some great people on Friday morning at the Livingston County Farm Bureau legislative breakfast at PTI Precision Planting Research and Development Farm in Pontiac. I enjoyed catching up with some friends and discussing the happenings in Springfield.
Our current bill backlog
When a vendor provides the state with goods and services, they submit the bill to the Illinois Comptroller for payment. The Comptroller processes the paperwork and pays the bill when funds are available in the state's checking account. Currently the total amount of unpaid bills is $1,577,208,883. This figure changes daily. Last year at this time the state had $3.4 billion in bills awaiting payment. This only includes bills submitted to the Comptroller for payment, not unfunded debts like the state's pension liability, which is well over $100 billion.
Illinois headlines
Severity of Illinois strep throat cases are concerning, doctors say
GOP wants reforms for a more business friendly Illinois
McLean County leads country in corn production per latest estimates from USDA
Newest exhibit to open up at the Abraham Lincoln Presidential Museum