Thank you for reading my first e-newsletter. It has been a whirlwind of activity since I was sworn in as your state representative on February 4. I am a farmer from Livingston County, and was formerly a county board member, President of the Livingston County Farm Bureau and a Director for the Illinois Corn Growers' Association.
When my friend Tom Bennett moved over to the Illinois Senate I was honored to be chosen as his replacement in the House. Since then I have been getting up to speed on the issues we will be confronting in Springfield and meeting with people from around the district to hear what is on your minds.
As farmers and small business owners, my family has seen firsthand how bad policies from Springfield have hurt the business climate in Illinois and have driven families and job creators away. I promise to work tirelessly to bring the conservative values of the residents of this district to Springfield.
I look forward to keeping in touch with you and the residents of the 106th district through these regular updates. There will be news and information from Springfield and around state government. I hope that you will share your thoughts and opinions with me as we move ahead in the spring session of the Illinois House.
Please visit my legislative website at repbunting.com for state government news, or to learn more about me and our new district.
Governor delivers State of the State Address
The biggest news this week was Governor JB Pritzker's State of the State Address on Wednesday. I was honored to be chosen as one of the members of the "committee of escort" to accompany the Governor to the House chamber for the speech, but unfortunately the speech itself left much to be desired.
Governor Pritzker is proposing to spend money faster than the state takes it in. I may be new to Springfield, but I know that just doesn't add up.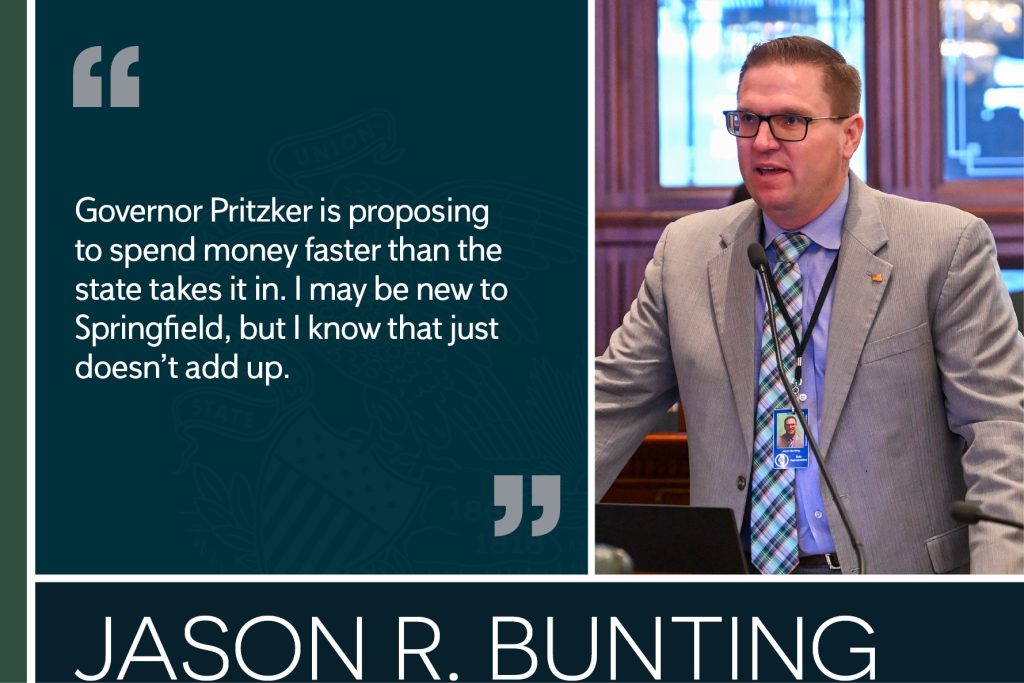 Illinois has received billions of dollars in federal pandemic relief funds over the past few years. But this year those funds will start falling off, meaning our state revenue will go down by $1.4 billion. But the Governor proposes to create or expand state programs by $2.75 billion more. He plans to lock this new spending into place permanently, even though we will not have the money to pay for it in the future. The result will be program cuts, tax increases, or both.
The math just doesn't work, and I will continue to point this out as we go about making the state budget over the next few months. Common sense says we have to do things differently.
Assigned to five committees
When a bill is introduced in Springfield its first step in the legislative process is a committee hearing. House committees review each bill, ask questions, make changes and then recommend whether or not it should move forward.
This spring I was chosen to be a member of five different committees. I will be a member of the committees dealing with child care access and early childhood, labor and commerce, public utilities, transportation safety, as well as the appropriations committee which looks at the budget for human services programs and agencies.
We will be very busy with committee hearings over the next several weeks as there are more than 2000 bills already introduced in the House. You can see the House committee schedule here, and even watch hearings live by clicking here.
Our current bill backlog
When a vendor provides the state with goods and services, they submit the bill to the Illinois Comptroller for payment. The Comptroller processes the paperwork and pays the bill when funds are available in the state's checking account. This figure changes daily. Currently the total amount of unpaid bills is $2,906,933,079. Last year at this time the state had $3.8 billion in bills awaiting payment. This only includes bills submitted to the Comptroller for payment, not unfunded debts like the state's pension liability, which is well over $100 billion.
Illinois news
Macon County judge issues third temporary restraining order against Illinois' gun ban
Federal judge in Illinois' gun ban case orders state to show 'each and every item banned'
IRS issues clarification on rebates, says Illinois taxpayers can file returns
Free tax prep help available throughout Illinois
Super Bowl commercial puts spotlight on Illinois farming family
Harbor House opens new emergency shelter in Iroquois County